We are in Tuscany, exactly in Lucca, wonderful cities of art, music, food and traditions. In our opinion, nowhere else in the world could be better for the mission of Ruota a ruota.Our land  offers so many tourist itineraries by bike and having such a varied range of artistic proposals, culinary and scenic attractions to visitors that one would stay for an entire month discovering every day places always different, unique and made of incredible charm. When we are riding our bikes before we lose every time at least ten minutes to decide the destination and not because the choice is limited but for the exact opposite! We can decide to cycle 130 km in all plain, or we can choose to arrive at 1000 meters of altitude in just 18 km.
 Hill of Capriglia. 35 km far from Lucca.
It is not a coincidence that many professional cyclists have decided to live in Lucca and the surrounding areas. The proximity of the sea, makes the mild climate and the offer of courses to train it is unmatched in both number and diversity of revolutions. Every day we will take you to discover places and breathtaking views, with the pleasure of it practicing the greatest sport in the world: cycling! We need to get around during your stay, daily itineraries and amaze every time you will then return to your selected structure to enjoy a well earned rest, thinking back to the good times we had during the day in our company.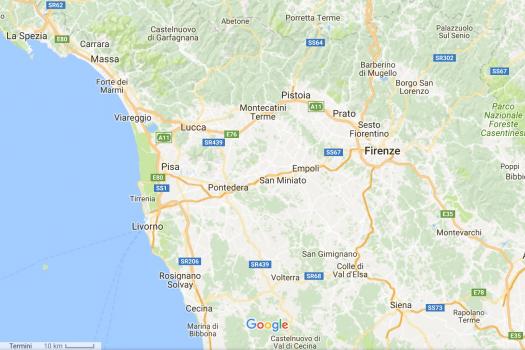 It is sufficient to give a glance at the map to immediately realize how strategic geographical position of Lucca. Let's get moving and go north, in less than 30 km we begin to ride into the hilly area before, then montana, Garfagnana. An incredible collection of small villages that exude culture food and traditions, incredible landscapes and tourist routes to go by bike to make the desire to never from the saddle of our bike. Continuing Northwest, we will arrive in the Apuan Alps, Carrara, place that hosts that authentic natural spectacles that are the marble quarries, (a "leisure experience") whose product has become famous throughout the world for its purity and color.
But we come back to Lucca and this time we go to the West. In less than 25 km we reach the coast of Versilia and Viareggio, location precisely known for its Carnival. From here, heading south, within minutes we will meet Pisa, famous throughout the world for its Leaning Tower and immediately following we get to Livorno (a leisure experience). If we go up the coast we will touch with a wonder after another. After 12 km, Forte dei Marmi (a leisure experience). It is the Pearl of versilia, renowned for luxury and frequented by many celebrities from the world of sport and entertainment. Further, in about 30 minutes we reach Portovenere and Cinque Terre, so unique and features in the morphology of the territory, which in 1997 were listed by Unesco as a world heritage site.
But now we move to the opposite side and go eastward, towards the interior of the region. In 60 km we arrive in Florence and here, sorry but every word would be superfluous. We are in the world capital of art, culture and invention. Just to pronounce names such as Leonardo da Vinci and Dante Alighieri and we already told you everything. If you want to know more, you only get one chance, see it for yourself but always with us of course and then maybe we'll all end up together around a table to enjoy a good glass of wine produced on the hills of Chianti. We are starting from Lucca, but this time we go south, right in the heart of Tuscany. In just 50 km we will dive in the Maremma and meet Bolgheri (a leisure experience). Moving of only other 20 km we reach in areas of Volterra and San Gimignano, the latter extraordinary medieval village also joined the world heritage of Unesco.
Well, if we have you convinced and you are thinking about how to get here, that's the easiest thing that there may be. Hop on the first plane bound for Pisa Galileo Galilei International Airport, here just recovered your luggage, find our private car in just 18 km will take you directly to the hotel 4 star hotel which we have selected for you. If that wasn't enough, our city is also served by another important stopover, Florence's Amerigo Vespucci airport. This is a little more away from our headquarters, how long to reach Lucca? Less than 40 minutes! What are you waiting for? Contact us today, we will be happy to arrange an unforgettable holiday full of sport, of course, but also of culture, good food, wellness and mind and body relax.